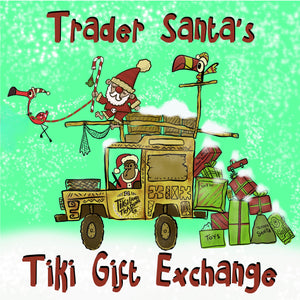 Trader Santa's Tiki Gift Exchange
Aloha! Lost Tiki Girl and Lost Tiki here!

Trader Santa's Tiki Gift Exchange Is back for another year.
 
In this tiki version of Secret Santa you will be randomly assigned one other participant to send a tiki gift to, and you will receive a gift in return.

Last year was an amazing success, and 100% of participants both sent and received gifts.

We're limiting participants to 150. Any more and it becomes a bit too crazy for us to keep track of.

This is a great way to spread holiday cheer, while supporting small businesses in the tiki community.
The value of the gift should be between $40-$50, plus whatever it costs to ship your item. 
Some Tiki gift ideas could include:
Tiki figurine/carving 
Tiki mug
Art print 
Cocktail glass
Cocktail umbrellas 
Stickers
Magnets 
Barware 
Tiki recipe book 
Vintage tiki items 
Swizzle sticks 
One of a kind art 
Etc.
How this will work:
YOU MUST BE A MEMBER OF ONE OF THE FOLLOWING TWO FOLLOWING FACEBOOK GROUPS (You can join now, if you haven't already):

TikiLand
-or-
Tiki Mugs: Buy, Sell, Trade, Wanted + Discuss



Please fill the information above out, and 'check out' (which is free for this). By doing this, you will be letting us know that you're committing to participate and will follow through with sending a gift to the person we assign to you. You are also giving us permission to supply your name and address to the participant that will be randomly assigned your name.


After you complete "check out" with this, we will email you to confirm you've supplied us with all of the correct information. You must respond.


Following that, we will contact you via email as soon as we assign another participant to you - you'll need to confirm at that time that you've received their information from us and that you're still participating.


You will need to send your gift no later than December 15, 2023, and provide a tracking number to us via email. Once we receive the tracking number, we'll send it to the person your gift is for.


Please provide us with your information in the form above. This is required:

A short message about your Tiki likes and dislikes, or just let us know that you're open to anything. (ie. "I love swizzles sticks, but don't like magnets. I'm really into traditional Tiki and stay away from the more whimsical side of things."). This is supposed to be fun, so please don't be too picky or demanding with your message
 

In the 'check out' process please enter the following information as you would like it used for your gift to be shipped to:

Name
Address
Email Address
Phone Number 



This is for those with mailing addresses in the UNITED STATES only.  Last year, the international participants we had felt that shipping costs were too high to send to someone in another country.
 
THE LAST DAY TO SUBMIT THIS AND JOIN THE GIFT EXCHANGE IS NOVEMBER 15, 2023 11:59pm PT.


All items you send should be in new condition. Please do not send used goods of any kind (with the exception of tiki mugs that can technically be preowned and still in good condition). Please also do not send personal care products (like lotions or soaps) or food items, for the safety of those with allergies. 


By participating you're doing so at your own risk. This is a fun holiday community gift exchange and no promises are being made. We will do our best to make sure each participant completes their commitment, but that is limited by the process mentioned on this page.