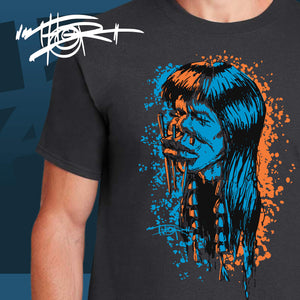 Thor's 'Shrunken Head' - Unisex Tee - Ready to Ship!
Regular price $28.00 Sale
Thor's 'Shrunken Head' Unisex Tee
After reflecting upon the unparalleled luminosity of an image painted upon a dark velvet canvas, Thor was inspired to create some new art, which was then translated into a collection of vibrant tees.
Similar to black velvet paintings, Thor's designs are composed of bright, complementary colored light sources which significantly contrast with its unlit background, the dark tee, so that the figures appear to be emerging from blackness.

Artwork by Thor (Tom Thordarson) 

Details:
Full front art on smoke grey tee
Art is screen-printed on 100% Cotton Hanes Beefy Tee
Sizes Available: S, M, L, XL, 2XL, 3XL - please read info below
Important Sizing Information: 
Do not go by size alone, please go by measurements
Width Measurements: 
Width (armhole to armhole across chest) 

S 34"-36"
M 38"-40"
L 42"-44"
XL 46"-48"
2XL 50"-52"
3XL 54"-56"