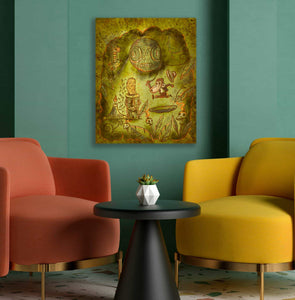 TikiLand Trading Co. 'Adventure Monkey and the Golden Idol' - Autographed Gallery Canvas Giclee - (US shipping included)
Regular price $250.00 Sale
Autographed Gallery Canvas Giclee

Adventure Monkey and the Golden Idol
Throw me the Pineapple Whip and I'll throw you the idol! 
This Golden Idol was found nestled in the Lost Cavern of the Forgotten Dreams by our intrepid Adventure Monkey. 

He braved the rolling stone of doom, jumped the bottomless pit of fears, and unlocked the code of Pele to retrieve the Golden Idol his troop had left there centuries prior! 
Once Adventure Monkey decoded the riddle, he was able to remove the volcano headdress to reveal the Golden Idol that illuminated the entire cavern!

Some say this art will bring you golden good luck-which we can't confirm nor deny-but we can say...they'll look great hanging around your Temple!

Single Canvas Giclee stands 24" tall by 12 "wide. Canvas giclee is wrapped around a wooden frame measuring 1 and 1/2 inches in depth.


Artwork by Tiki tOny
Details

This is a custom order.
Autographed by the artist.
Please allow two to three weeks to ship after you place an order.
This purchase includes US shipping.