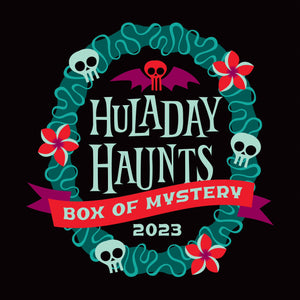 Jeff Granito's 'Huladay Haunts' Box of Mystery - U.S. Shipping Included!
Regular price $50.00 Sale
Jeff Granito's 'Huladay Haunts' Box of Mystery
Artwork by Jeff Granito
Each Huladay Haunts Box is filled with spooky surprises designed by Jeff Granito that will delight any haunt lover!
Most included items are exclusive to the Huladay Haunts Boxes!
Pick your own price point! 
There are 3 denominations to choose from: $50, $100, and $150! 
Each box will be packed with surprises valued at greater than the price you've selected. Price includes shipping costs for the U.S.
For orders outside of the U.S. please reach out to info@tikilandtrading.com for a shipping estimate. 
These are expected to ship during the first half of December!
Some of the types of items that may be included, depending on price/size selected:
6X6 Inch Mini Giclée

Duffle Bag
Holiday Coffee Mug
Mai Tai Glass
Bamboo Coaster 
Enamel Pin
Vinyl Stickers 
Duffle Bag
Window Clings
and more!